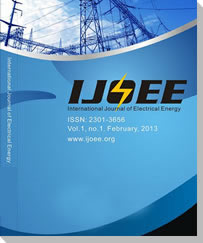 International Journal of Electrical Energy
IJOEE aims to provide a high profile, leading edge forum for academic researchers, industrial professionals, engineers, consultants, managers, educators and policy makers working in the field to contribute and disseminate innovative new work on Electrical Energy. All papers will be blind reviewed and accepted papers will be published quarterly, which is available online (open access) and in printed version.

Recently Published Papers
An Enhanced Feedback Linearization with Fuzzy Logic to Control the Active and Reactive Powers of Bidirectional Three-Phase Grid-Connected Renewable Energy Inverters
Nguyen Gia Minh Thao and Kenko Uchida
Abstract—This paper proposes an enhanced feedback linearization method with fuzzy logic (enFBL-FL) to control the active and reactive powers of bidirectional three-phase grid-connected inverters used in renewable energy systems. The proposed control structure is a suitable combination of the direct Feedback Linearization (FBL) and Fuzzy...[Read More]
ISSN: 2301-3656
Editor-in-Chief: Professor Bale V. Reddy, Canada
Executive Editor: Prof. Zhusheng Kang, UESTC, China
Associate Executive Editor: Ms. Scene Jiang
DOI: 10.18178/ijoee
Abstracting/Indexing: EI(INSPEC, IET), Ulrich's Periodicals Directory, Google Scholar, Crossref, etc.
E-mail questions or comments to IJOEE Editorial Office.